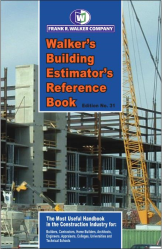 The Building Estimator's Reference Book is currently on backorder until December 19, 2018. Please call us at 800-458-3737 to find out where you can order books.
Recognized worldwide as the authoritative source for comprehensive cost estimating information: Walker's Building Estimator's Reference Book - 1,648-page text organized in the 50 CSI Division format and containing detailed construction cost data, reference tables, charts and diagrams for quick reference, plus detailed explanations of all possible variables affecting job costs.
This NEW Edition belongs on every construction Pro's desk.
View Book Detail Page
| | |
| --- | --- |
| | Price: $119.95 |
| | |
The Frank R. Walker Company is the trusted source for industry normative building cost data relied upon by generations of building construction contractors for accurate, competitive and profitable cost estimates.
Need help?
Customer Support