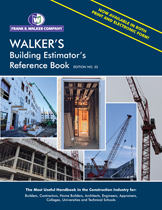 This latest edition of Walker's Building Estimator's Reference Book is the single most important resource you can own. It gives you the foundational knowledge and tools that you need to work up project costs.
Walker's is rich with labor productivity rates, equipment information and methods for determining costs based upon job conditions, enabling the estimator to accurately determine the components that make up unit-costs. Owning Walker's reduces the need to search multiple sources, thus saving time and analysis in the estimating process.
This NEW Edition belongs on every construction Pro's desk.
Book dimensions are updated to 8½" x 11"
For more information or to order, Click Here